Agile Transformation Leadership & Team Coaching
Inspired Leadership
Motivated Teams
Shared Results
Benefit from industry leading Agile coaching expertise and embrace turbo-charged transformative customer-centric change.
Are you struggling to create organisational agility?
Organisational Inefficiencies:
Rayyan aligns the organisation through the goal-setting system of OKR's (Objectives & Key Results). In turn, this addresses waste, slow lead time, cumbersome governance processes, poor organisation design, leadership ways of thinking, and creates team structures that optimise the flow of customer value.
Rayyan provides guidance, coaching and mentoring on navigating challenging leadership dynamics. Including how to become a servant-leader, how to facilitating effective decision-making across leadership teams, how to foster a culture of empowerment, and how to become a visionary leader.
Staff Turnover & Team Performance:
Rayyan helps to boost team performance through an increase in ownership, accountability and productivity. This empowers the team so that they can confidently take full control how their working experience. In turn, this allows the organisation to promote a culture of transparency and fast improvement.
Limited Insights and Productivity:
Rayyan focuses on creating the information flows that will enhance the organisations ability to be empirical. Providing real-time data-led insights that inform team, leadership and executive decision making. This enables transparency and enhances the faster flow of information and effective decision making.
How can I help your agility?
Agile Transformation
& Coaching
Rayyan supports organisations to chart the right path to creating real agility. This includes assessing the current organisation model, defining an agile transformation roadmap, immersive leadership training, as well as just in time team coaching to ensure successful adoption and customised support.
Leadership & Executive Coaching
Rayyan supports executive and leadership teams in developing agile leadership skills. This includes embracing an agile mindset, adopting agile behaviour norms, and embedding agile principles into the way they operate. Further more, leaders learn how to create lasting systemic change through collaboration & empowerment.
High-Performing Team Development
Rayyan supports your teams to reach their full potential through team performance coaching, training and customised facilitation. This involves creating a culture of transparency, embedding an explicit process of value-creation, as well as implementing self-organising teams via agile practises.
"Passionate, dedicated, talented and a real critical thinker who wants action rather than words... Rare talent in my view as he's a thinker, 'do-er' and reflective practitioner in the world of constant change... A real asset in anyone's organisation!"
Dr Paul Thomas - BBC Business Doctor
With over a decade of business experience, Rayyan has honed skills in guiding individuals, teams and organisations to unlock their true potential.
Rayyan's leverages his experiences from Enterprise-level Agile Transformations where he has supported as Advisor, Consultant, Agile Coach, Mentor & Scrum Master to FTSE100 and NASDAQ organsiations.
Alongside his commitments as an Agile Transformation expert, Rayyan is also a passionate life coach, small business mentor and social entrepreneur.
Agile Transformation Books
Discover transformative insights and actionable guidance in our best-selling books, empowering you to unlock your true potential and drive lasting change.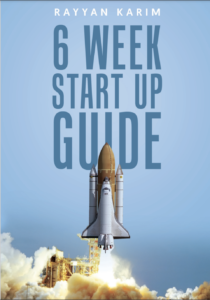 Supercharge Your Revenue in 6 Weeks with Rayyan's Proven Framework for Extraordinary Growth, Success, and Profitability!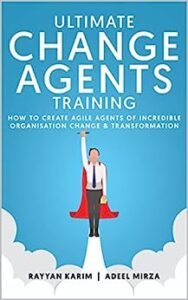 Transform your organisation with "Ultimate Change Agents Training," a guide to creating agile leaders.
Transformative results and satisfied clients attest to the power of Rayyan's agile coaching expertise. Join us and experience the impact of agile coaching firsthand.
"He is wise amongst his years and he has the heart to be the best coach in your organisation. An amazing individual and a leader amongst coaches"
"Worked tirelessly to get us to a solid place quickly. He has a remarkable ability to bring everyone together and get the right people to make decisions"
"Rayyan provides provable and efficient methods of laying out our ways of working which helped us across many teams to get perspective and gain momentum quickly."
Agile Transformation Blogs...
Concise and powerful insights that will amplify your organisation.
7 steps to guarantee Agile Transformation success.
13 common mistakes that lead to failed Agile Transformations.